Drill My Hole 03
(5)
| | |
| --- | --- |
| | Get it with a Free Trial! |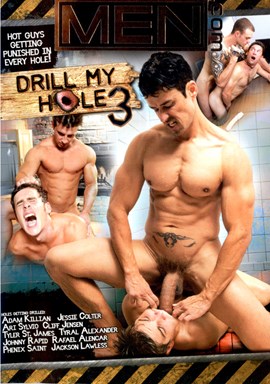 Performers
Director
Studio
Category
Duration (approximate)

Men.com

130 minutes

Date Added:
07/30/2015
Production Year:
2015
Format:
DVD
There are currently no member reviews. Be the first to review this title.
Industry Reviews (1)
Reviewed by Netguy 11/11/12
Source: AdultDVDTalk



Adam Killian teaches Jessie Cotler a lesson in ?Caught Cheating? and he?ll probably think twice about doing it again after Adam gives it to him! Muscle stud Adam races home after finding some incriminating photos and roughs up Jessie when he gets there. He forces his big cock down Jessie?s throat and makes him eat his massive ass hole as well! Adam really puts it to him, slapping his ass, spitting on him, choking, you name it! Deep down I?m sure Jessie doesn?t mind though. Adam shoves him to the bed and rams his big cock up his hole and really fucking rams him! It?s an awesome fuck even thought it?s a little bit rough for my liking. The two fuck hard and rough in all kinds of positions until the two are spewing their loads all over the place!

The adorable tattooed Cliff Jensen can?t seem to get anyone to sign his petition to ?Lower My Tuition? so he storms into Dean Ari Sylvio?s office demanding some help. Ari takes a glance at that 8? hiding beneath Cliff?s jeans and before you know it the dean is choking on it! Lot?s of dirty talk as Cliff fucks his face and Ari works up a sweat trying to take every inch! Another rough session ensues as Cliff forces him onto the desk and uses a dildo on his ass that he?s found in a desk drawer. Eventually the rubber comes out and the real goes in and Cliff fucks him hard and fast! It?s intense. Cliff pulls out just in time and cums all over Ari?s backside and then has him shoot on his desk. Needless to say I think the tuition is being lowered!

Tyler St James needs to make some extra money in ?Personal Trainer? and really gives his client, Tyr Alexander a workout! Tyr begins his workout but has other things on his mind. Tyr begins playing with himself and Tyler has had enough and throws Tyr to the floor and begins slapping him around. Meanwhile Tyr keeps taunting him as they wrestle around on the floor. Tyler buries Tyr?s face in his crotch then rams that big tool down his throat! After a hard deep throating the two settle down a bit when Tyler fucks Tyr from behind. It?s a great deep fuck with lots of nice penetration shots! The two continue on their sides before ending with an incredible facial that leave Tyr covered in man jizz! Tyr is hard as a rock and beats off letting his load fly into the air and all over the floor! Very hot!

There?s nothing like a good old fashioned ?Prison Scene especially when it features one of my favorite performers, big dicked Rafael Alencacar and the adorable Johnny Rapid! Rafael literally has to spread Johnny?s mouth apart with his hand in order to force feed him his massive cock! Poor Johnny loks pretty helpless as Rafael fucks his mouth as the shower sprays down on the two of them. With Johnny pressed up against the shower wall Rafael rams his tight hole from behind. It?s another great fuck and Johnny takes every inch with gusto! God he?s got a cute ass! And boy is he limber! Johnny puts one leg high into the air and props himself in the stall while Rafael continues to ram him deep and hard! So fucking hot! I have to say the positions they get into would make Cirque du Soleil proud! Talk about a power bottom! After one helluva fuck Rafael shoots an incredible load half on the floor and half on Johnny?s face! At then end there?s some behind the scenes of the two of them.

Finally, Jackson Lawless gets caught shoplifting in ?Shoplifters Beware?, by store owner Phenix Saint. Phenix drags the dude into the backroom and ties his hands behind his back as Jackson swears he didn?t do anything. Phenix checks his pockets for more goods and ?goods? he finds! Phenix unleashes his cock and makes Jackson open his mouth nice and wide. Phenix isn?t too hard at first but once he gets Jackson deep throating him things take a turn for the better! Jackson gets his hands untied whereby Phenix continues to work him over with a dildo that gets him primed for his own piece of meat! Phenix looks so hot as he fucks Jackson from behind pumping him like there?s no tomorrow! The two continue with Jackson riding Phenix as his cock bobs up and down and Jackson buries his cock deep inside him. It looks fucking hot with some nice closeup shots! With Jackson on his back and Pheniz pounding away Jackson jerks off and blows a wad to his ripped abs. Phenix pulls out and uses Jackson as a cum rag as he spews his creamy load! Hot! A post scene interview ends the scene.

Overall this was pretty hot! Some of it was a bit rough for my liking but other scenes hit the mark for me and gave me a boner for sure! Especially liked the shower scene and the finale. You generally really cant go wrong with a Men.com feature.