Big Dicks at School 04
(8)
| | |
| --- | --- |
| | Get it with a Free Trial! |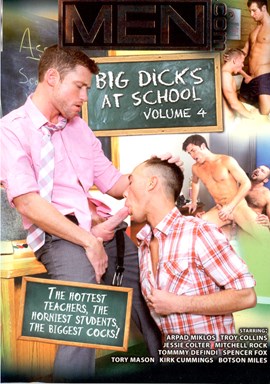 Performers
Director
Studio
Category
Duration (approximate)

Men.com

147 minutes

Date Added:
07/30/2015
Production Year:
2015
Format:
DVD
There are currently no member reviews. Be the first to review this title.
Industry Reviews (1)
Reviewed by Netguy 01/27/13
Source: AdultDVDTalk



Adorable college boy Troy Collins will do anything to get on coach Arpad Miklos?s team in ?Captain?s Test? so of course the first thing is he must pass the physical. I don?t recall ever seeing Troy before but he?s absolutely one hot stud! He strips down to his jock as the big, burly Arpad inspetcs every inch of him. The 2nd test is Arpad unleashing his big cock for Troy to devour and what a nice cock it is! Arpad isn?t really my type but the contrast between the two was rather hot! Watching Arpad fuck Troy?s mouth as they 69-ed gave me a boner big time! It?s pretty hot! After a brief rim job and fingering Troy takes that massive cock from behind. The two continue with Troy riding Arpad and then on the floor on their sides and Troy looks so fucking cute as he takes every inch and moans with delight! It ends missionary style with Arpad using Troy as a cum rag and shooting a real nice load!

In ?Clash of the Coaches? Jesse Colter and Mitchell Rock both snag each other for having sex with students and before you know it Mitchell is down on his knees with his lips wrapped around Jesse?s hard as a rock cock! The two tatted up studs take turns blowing one another with Jesse really working over Mitchell as he lies across the desk! Jesse proceeds to really get worked up as Mitchell rims him in a nearby bathroom. A great rim job leads up to an intense fuck that has Jesse moaning and screaming for more and more! It?s a bit loud and annoying so have the remote handy. Hell I?d be moaning like that if that big stud was deep inside me. A surprising flip-flop ensues with Mitchell taking it up the ass and ends with him on his back jerking off as Jesse pounds away!

Jesse is back and this time he?s teamed up with the sexy Tommy Defendi and two begin a game of ?Gay Chicken? teasing each other with some gay ?acts? in the locker room. The two look cute as they giggle and taunt one another and eventually begin to make out. What I wouldn?t do to make out with Tommy! Jesse goes down first and it doesn?t take him long to bring Tommy from soft to hard as he chows down on him and gets his dick nice and plump! Great shots from overhead show off Jesse?s skills as a cock sucker before bottoming and offering up his tight ass to Tommy. Tommy always delivers a nice fuck and here?s no exception!

As Spencer Fox sleeps Tory Mason sleep walks and takes a piss on his laundry in ?Pissed Off?. Well Spencer puts him in his place by making him take every inch down his throat! God I love this guy! So fucking hot with one beautiful cock! After a nice suck fest Tory kneels up on the bed and gets a nice fingering before Spencer plants his massive cock deep inside him! Tory has one fine ass that?s for sure and Spencer knows how to put that hole to good use! Probably my favorite scene thus far just because I like the way Spencer fucks and just love that huge cock!

Kirk Cummings is an ?Unruly Student? and gets the ruler to his cute ass from hunky teacher Boston Miles. Boston slaps him till it?s beat red only taking time out to bury his tongue in his hole. One of the better rimmings and Boston really seams into it! Kirks hard as rock by this point and Boston makes him blow his own big, hard, cock! Kirk?s insatiable as always as he slobber, chokes, and devours the shaft! Eventually the two fuck like jackrabbits and Kirk just can?t seem to get enough of Boston as they fuck around the classroom into a frenzy! What I found really hot was after a massive fuck they stop only so that Boston can blow Kirk a bit, then they continue fucking until Kirk blows a massive load to his belly!

Although I enjoyed it I wouldn't totally rave about this particular edition. Guys are hot as hell but there just seemed to be something lacking.