Big Dicks at School 03
(9)
| | |
| --- | --- |
| | Get it with a Free Trial! |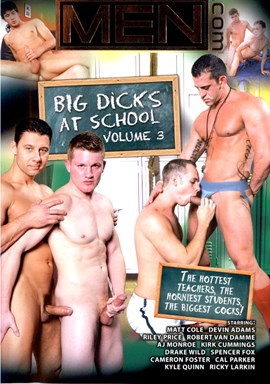 Performers
Director
Studio
Category
Duration (approximate)

Men.com

143 minutes

Date Added:
07/30/2015
Production Year:
2015
Format:
DVD
There are currently no member reviews. Be the first to review this title.
Industry Reviews (1)
Reviewed by Netguy 10/28/12
Source: AdultDVDTalk



?Convincing the Coach?
Coach Matt Cole needs a bit of convincing from sexy Devin Adams that he?s committed to the team and it doesn?t take much for Devin to drop to his knees and devour Matt?s rock hard cock to convince him otherwise! Things get even hotter when coach Cole gets down and starts kissing and caressing Devin?s jock getting him nice and turned on. No doubt he?s a team player! Plenty of nice close-ups as Matt takes every inch of Devin down his throat before moving on to his hot ass! Matt rims Devin then slowly slides his cock deep inside him. The scene?s pretty vocal so you may want to have the remote ready as the two fuck all over the locker room. As Devin gets fucked missionary he shoots a nice load to his chest. Matt pumps his ass a bit more the pulls out just in time to shoot a great load himself! I guess you call that taking one for the team!

More team shenanigans occure as a cute, nicely built Riley Price heads to the teams doctor, Robert Van Damme, to check on his sore ankle. It?s not just his ankle though that needs attention in ?Crush on my Coach?. After a round of blow jobs Riley rides Robert like there?s no tomorrow! Riley pushes himself up and down forcefully but doesn?t really seem to get very hard. Things pick up though when Riley lies on top of the desk and Robert continues pounding his hot ass. It?s a nice fuck that continues from behind until Riley shoots a really nice load into his hand then licks his palm to swallow every morsel! It?s pretty hot! Robert then pulls out and drops his load on Riley?s ass leaving his backside covered in jizz!

The adorable Kirk Cummings doesn?t think they?ll survive in the ? wild? in ?Pitching My Tent? but sexy AJ Monroe doesn?t seem to have a problem getting stark naked and sharing a sleeping bag with the young stud! The next morning AJ has a bit of morning wood going on and rubs his cock up against Kirk. The two are really cute together and AJ eventually convinces Kirk to make out with him. Some nice foreplay ensues and Kirk works his way down to
AJ?s throbbing cock. Watching these two got me hard! AJ really gets into it returns the favor to Kirk?s big dick as the two work themselves into a bit of a frenzy. It?s a bit funny but at one point Kirk gets his ass teased with a flashlight! I was hoping Kirk would top but he bottoms for AJ getting down on all fours as AJ rams his tight hole! Kirk then rides him face to face and they finish off missionary. It?s a great fuck to say the least and AJ really knows how to use his tool! Kirk shoots a fucking massive load to his chest as AJ pounds away on his ass then pulls out to spray all over Kirk leaving him totally drenched in cum! So fucking hot!

Drake Wild and Spencer Fox star in ?Skater Boy?. After some brief pavement surfing the two head home and Jake goes off to take a shower. Well this can only lead to Spencer whipping his dick out and taking a sneak peak at the stud. One thing leads to another and the the two exhange blowjobs. It?s another enjoyable scene that finds Spencer bottoming for his skateboard buddy. It?s another great fuck in a number of positions and watching Spencer?s cock bob up and down as he rides Drake was a complete turn on! Even hotter when Spencer is lying on his back getting a slow fuck that turns fast and furious before Spencer sprays and almost shoots his face and Drake pulls out and shoots a nice load leaving Spencer covered in plenty of jizz much like the previous scene! Love it!

The finale finds a ?Winner Takes All? after a tennis match that features Kyle Quinn, Cal Parker, Ricky Larking and Cameron Foster. A nice foursome takes shape off the courts and the four guys were all nicely different looking. I really wasn?t sure who was who but that didn?t quite matter, all kinds of sucking takes place initially before asses are spread apart and fucked big time! As you can expect there's some real nice juicy loads that end the scene!

Overall it was a pretty hot fuck flick and I'd have to say I'd pay money just to see the cum shot of Kirk and AJ over and over! LOL! The foursome at the end was rather hot as well! If you go to Men.com you can see preview clips of the scenes. If you can pick this up at a decent price I'd say go for it!