Str8 to Gay 04
(9)
| | |
| --- | --- |
| | Get it with a Free Trial! |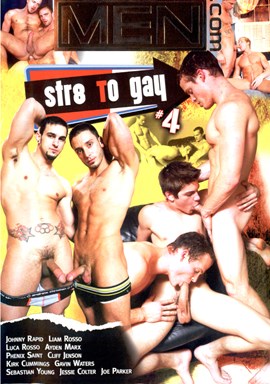 Performers
Director
Studio
Category
Duration (approximate)

Men.com

130 minutes

Date Added:
07/29/2015
Production Year:
2015
Format:
DVD
There are currently no member reviews. Be the first to review this title.
Industry Reviews (1)
Reviewed by netguy 01/21/13
Source: AdultDVDTalk



Right from the start I knew this was going to be so fucking hot, I mean who better to start things off then hot twins Liam and Luca Rosso playing video games with power bottom Johnny Rapid! In ?Game Gone Wild? the boys of course are playing shirtless when the two twins gang up on Johnny in the hopes that he loses. Well he?s a winner in my book when he gets to blow Liam and Luca! It is so fucking hot and already I couldn?t wait for them to fuck the hell out of the adorable Johnny! Johnny bobs back and forth between them before they return the favor and take turns going down on him. Just so hot watching Liam take Johnny down his throat while his brother kneeled off to the side and watched. It?s really a hot suck fest until Luca says he?s ready to fuck! With Johnny bent over and blowing Liam Luca begins fucking from behind. Lots of great shots from underneath as he pounds away! God this is so frigin hot watching Johnny and Liam make out as he continues to get pounded! Things get even hotter when Johnny gets his shot to ram both of them. I haven?t seen a good scene like this in ages! I might as well just jack off now and turn it off! LOL! It ends with the twins using Johnny as a cum rag as they spray all over him!

Ok, can this get any better? Well maybe?one of my favorite performers Phenix Saint gets a ?Hospital Hook Up? with doctor Ayden Marx. Before Phenix gets a vasectomy he wants to drop a load first and begins jacking off in his room after Dr. Marx leaves. Well, Ayden catches him and offers to help him out. Phenix is looking really good with his cock pointing straight up and Ayden goes to work on him taking every inch down his throat! The two continue with Phenix in a chair and Ayden takes that hard cock for a ride. More great penetration shots as Ayden turns around to face Phenix and continue the ride. The two move to the bed where the big muscular stud Phenix fucks him from behind. It ends with the doctor now on his back while his ass continues to get a major workout! Phenix is another one I could just watch for hours! Ayden drops a nice creamy load to his belly just before Phenix pulls out and finishes himself off leaving Ayden nice and sticky and the two out of breath!

Sienna Splash, yup a woman, and her gay BFF Kirk Cummings are hanging out in a club when in walks hunky Cliff Jensen. The two eye him up and then make a dare to see who can go home with him. Well Sienna coaxes him to go to the back of the bar for some ?Photo Booth Fun?. It doesnt long and Sienna makes her move and the two begin making out. The tattooed Cliff is a real cutie! Another one I?ve always enjoyed. Well Sienna pulls his cock out and begins to blow him just as the booth goes dark. There time is up so now it?s Kirks turn to make a move! He follows Cliff to the bathroom and tells him he can do so much better. Cliffs pants are down and Kirk is on his knees devouring his tool! I love a good cock sucking and Kirk does it oh so well! The two get kicked out of the bathroom so the bartender could clean up so it?s off to the bar for some cock sucking action! Kirk doesn?t get blown but does get his ass pounded hard and fast all around the bar! Kirks always been a little to whiney for me and it does get a bit vocal. Cliff though is a great top and fucks him hard, fast, and deep! Cliff fucks the cum out of him just before the two get thrown out.

?Show Me Yours? stars tattooed stud Sebastian Young who?s paired up with blond hunk Gavin Waters. The two cross paths after years have gone by and they decide to rekindle some old passion they once shared in prison. Lucky them! Once home Gavin immediately goes down on Sebastian?s big, thick cock and vice versa. The two get naked and continue their tricks from prison with Gavin seeming to not want to take his lips off that dick! He does though and lets Sebastian plant that big tool deep inside him! The two fuck in all kinds of positions and watching them was hot! Gavin can?t take much more so the two stop and jack off together with Gavin delivering lots of nice little squirts while Sebastian blows a milky stream! Hot!

Finally in ?Stretch My Hole? a sexy Joe Parker arrives at Jessie Colters yoga studio to work limber up a bit. During the workout Jessie catches a glimpse of Joe?s cock and becomes enamored by it. It doesn?t take long before Jessie is tugging at his shorts and unleashing the hard as a rock cock and begins stroking it! The two scruffy studs begin kissing then Jessie makes his way down to the long shaft! It?s a gorgeous cock which Jessie delivers a nice slow suck to. I must be really horny because every scene has turned me on in one aspect or another. Joe stands, his big curved cock erect and Jessie continues teasing the shaft with his tongue and mouth. It is so fucking hot! Joe gets all hot and bothered by the slow sensual suck so it?s time for him to return the favor! I?m telling you its incredible and the two seem really into one another! This all leads up to Joe lying on the floor and Jessie on top of him taking every inch up his butt! I really have to find more clips with Joe, there was just something about him and the way he fucked that gave me a boner big time! Maybe it?s that lean body and the way he gyrated but I could have cum a number of times! Jessie?s a bit vocal moaning and groaning as Joe works up into an ass pounding frenzy until the two of them are spraying their loads all over the place! Another amazing scene!

I'm telling you I've seen a number of the Men.com films and I have to say this is one of their best, seriously. I loved it and can't wait to rewatch a few of those scenes already! One word, hot!