Gay Office 05, The
(11)
| | |
| --- | --- |
| | Get it with a Free Trial! |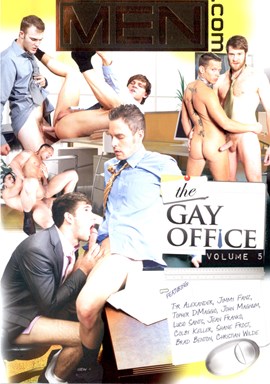 Performers
Director
Studio
Category
Duration (approximate)

Men.com

133 minutes

Date Added:
09/19/2023
Production Year:
2015
Format:
DVD
There are currently no member reviews. Be the first to review this title.
Industry Reviews (1)
Reviewed by Netguy 04/18/13
Source: AdultDVDTalk



Poor sexy and hairy Jimmy Franz gets laid off from his job in Fraternization but lucky for him he?s got a horny coworker, Tyr Alexander to console him! The two enjoy a real nice makeout session as they slowly undress one another, kissing and groping before Tyr goes down on his knees and begins devouring Jimmy?s semi-hard cock. Tyr delivers a nice blow job before he sits back and enjoys as Jimmy slobbers all over his cock and balls. Jimmy is just too fucking cute and gives a devilish smirk as he sucks away! Eventually Jimmy lies back on the desk and Tyr takes him for a ride. It looked a bit awkward to me but things picked up when they switched positions and Jimmy was bent over the desk taking it from behind! The two switch it up once more that ends with Tyr on his back while Jimmy rams his tight ass until the two are spraying their loads all over the place! Wasn?t bad but I?ve seen Jimmy perform a bit better in other scenes.

John Magnum is freaking out over his bills in Paying the Debt and to make amends with the tax auditor, Topher Dimaggio, he says he?ll do anything. Topher gets the hint and walks over so John can unleash his massive rock hard cock! I haven?t seen John perform in a while and he?s still got it! The two take turns choking on each other?s cocks and then John straddles a chair and lets Topher eat his ass. Have to say that hole looked pretty nice! The two work themselves into a frenzy and then Topher fucks him all around the office. The muscle stud really knows how to put his cock to use as he moans and groans and shoves it in deep and fast! Lots of nice penetration shots! As he pounds away John shoots a nice creamy load to his abs before Topher pulls out and finishes himself off! Guess that debt is settled!

I don?t recall ever seeing the next two performers, which was nice, and both were sexy as hell! Jean Franco and Lucio Saints are having issues with their suits in Tailored to Fuck. Lucio comes on to Jean who doesn?t like his advances but eventually gives in. Jean is so fucking hot with his dark hair and goatee and a nice stocky build to himself. Same with Lucio for that matter! And wait until you get a load of his cock! Jean does his best to take it all in as Lucio whispers instructions under his breath. Jean doesn?t get sucked but gets a nice ass pounding instead! Jean on the floor, ass in the air, Lucio delivers a fantastic fuck driving his big cock straight down! Really hot! The two don?t let up as they fuck like crazy all around the dressing room ending with Jean taking it from behind and shooting a fucking huge load on a chair! His cock?s equally impressive and it would?ve been great had he put it to use! Finally Lucio sits back and as he admires his fuck buddy he shoots on helluva load too all across his thigh! Loved this scene!

The action continues as Colby Keller and Shane Frost work late one night and get a bit frisky in The Boardroom. Shane wastes no time and quickly begins kissing the bearded stud and they both seemed pretty into each other. Shane?s always a great performer I think and here?s no exception. He teases and sucks Colby like there?s no tomorrow as Colby moans with delight! That thick, veiny cock sure looked good! Colby does a nice job himself as he gets Shane nice and hard with his mouth that quickly leads to Shane on his back! Shane takes Colby for a ride, then he?s taking it up his tight hole from behind. It?s hard and fast that leaves Shane shooting his spunk all over the boardrooms glass walls! Colby sits back and shoots a real nice thick load that spurts from his cock! Great cum shots!

Another performer I don?t recall seeing for a while is Brad Benton! Always thought he was cute! Anyway, he takes a liking to another cutie, Christian Wilde, in the New Guy. Brad asks him if wants to go to lunch because he?s ?really hungry? and before you know it their lips are locked. The two exchange blow jobs and Christian looked hot dressed in his suit as he devoured Brad! A real nice change of pace has Brad stroking both their cocks together as they makeout. Always a turn on for me! Again the two fuck all around the office in a number of positions. Once nice one was Brad riding Christian back to front as his cock bobbed up and down and the camera angle was nice. It ends missionary on the office sofa and with some loud moans and groans the two let their man juice fly! Very nice!