Pirate Tape 01
(8)
| | |
| --- | --- |
| | Get it with a Free Trial! |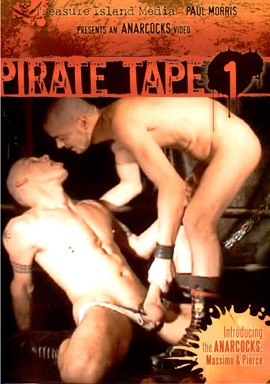 Performers
Director
Studio
Category
Duration (approximate)

Treasure Island Media

90 minutes

Date Added:
06/06/2015
Production Year:
2003
Format:
DVD
There are currently no member reviews. Be the first to review this title.
Industry Reviews (1)
Reviewed by Joe Shaver 11/22/05
Source: AdultDVDTalk



PIRATE TAPE 1 is not your conventional porn film. It?s basically a montage of erotic?often extreme?behavior. Two kinky lovers?Pierce & Massimo?along with two of their friends?Skingdog and Harald?engage in head shaving, watersports (including piss drinking), bareback fucking, dildoing, and fisting. Ears, eyebrows, nipples, navels, noses, and cocks are pierced. Heads and crotches are shaved. The credits tell us that these activities were filmed in a foreign location (England or Germany is my guess). Treasure Island then edited the film and released it here. The fragments?as that?s what they are?are accompanied by an uncannily appropriate soundtrack. Incredibly it?s like watching an avant-garde art film. Not only did I find it erotic, I found it something of an aesthetic experience as well.

At the beginning we follow a rusting chain down, down, down. A deep voice on the soundtrack sings ?Baby?s got a Mohawk, Baby?s got a Mohawk.? And we look down upon a standing naked guy shaving the head of a naked guy kneeling at his feet. Pierce is giving Massimo a Mohawk.

Cut to Pierce seated wearing an anti-christ t-shirt and no pants. He pisses up and into his mouth; then jacks off.

Cut to Massimo seated wearing a red-spattered t-shirt and a jock. He pisses through the jock then pulls out his prick and jacks off. He licks up his cum and piss.

A threesome. Pierce, Massimo, and Skindog kissing and sucking cock. Skindog is sexily thin, his nose and cock are pierced. Pierce gets in a bathtub. His large cock is stiff and straining upward. Pierce leans his head back and Skindog pisses in his mouth.

Massimo jacks off onto his boot.

We get a close-up of a raw cock fucking an ass. Pierce is sucking Massimo who is sucking Skindog?s cock with its Prince Albert. The bareback piercing of Massimo continues in the missionary position, His cock is lying hard along his belly and jerks upward with every thrust of Pierce?s prick. Massimo grabs his cock and beats off in time to Pierce?s prodding. Pierce pulls and cums, mixing their cum together.

Obviously the film is not edited in chronological order as now we find Massimo with a full head of hair giving Pierce a Mohawk. (Sometimes Pierce has a goatee as long as a goat?s; oftentimes he is smoothly shaven.)

Pierce and Massimo are now joined by another friend?Harald. A very attractive blond with a Prince Albert piercing the head of his cock. Pierce is fucking Massimo and Harald pulls his pierced pud. Suddenly we find Harald on all fours, his anus is gaping open like the Holland tunnel. God what an receptive chasm! (A enormous dildo is lying beside him. I assume it was used to ream that cavernous aperture.) Pierce and Massimo poke at it with their fingers. Massimo goes to stand in front of Harald and feeds him his cock. Pierce picks up a string of large red balls and sticks them one by one up Harald?s ass. Then?as Harald continues to swallow Massimo?s cock?Pierce puts on a surgical glove and with only slight effort inserts his fist into Harald?s fuckhole. Before any one cums?shit!?we cut to:

Pierce sucking Massimo?s hairless cock. They 69. Pierce fucks him. Massimo?s hard cock indicates his pleasure. Pierce stops fucking so Massimo can suck him off. Pierce also gives head to Massimo. Massimo fucks Pierce. Sadly?once again?there are no cum shots.

Piss Interlude. Pierce pisses in his briefs. Then sucks on Massimo?s cock. Massimo pisses in Pierce?s mouth and into a rectal syringe. Pierce now gets a piss-enema. This is followed by a large black dildo; then the balls on the string. With the balls still up the ass, Massimo also shoves another large dildo up Pierce?s hole.

Cut to pierce sucking Massimo?s cock and sitting down on it. His ride brings forth his load. They kiss. Massimo then brings over a soiled book. Pierce squats over it and whatever is in his ass (piss & cum?) is deposited on its pages. The boys wave bye-bye.


I really was engrossed by the film. Had they shown more money shots (especially with Skindog?and even more so?with Harald) I might have given it 5-stars. But as this is entitled PIRATE TAPE 1, perhaps in PIRATE TAPE 2 that will be rectified. Probably not to everyone?s taste, and not really a pud-pounder, the film is fascinating and would make for a hell of a party tape.