Out in Public 07
(6)
| | |
| --- | --- |
| | Get it with a Free Trial! |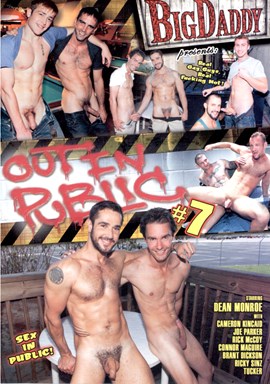 Performers
Director
Studio
Category
Duration (approximate)

Big Daddy

89 minutes

Date Added:
02/11/2015
Production Year:
2013
Format:
DVD
There are currently no member reviews. Be the first to review this title.
Industry Reviews (1)
Reviewed by Netguy 07/17/13
Source: AdultDVDTalk



Things start off when a cute Ricky spots a guy on the street by his lonesome and they offer him some money if he wants to fuck around. Obviously he does and the two along with the camera crew head off to a nearby bar. Ricky drops to his knees and starts sucking his partner who?s got a great cock but it didn?t really seem to last long. As clients play pool in the background Ricky bends over a nearby stool and gets a nice fuck from the stranger. Actually the top looks pretty hot and does a nice job of fucking him! There?s a bit of camera noise here and there but that just adds to the ?reality? bit of it. It?s a pretty natural looking fuck that continues with Ricky lying back atop the stool as he moans with delight and works up a sweat. Eventually the top pulls out and shoots a fairly nice load across Ricky?s abs before the two scurry to get dressed and get out of there. Ricky was cute and seemed to enjoy every minute.

Down in South Beach the crew is out with a cute college type guy, Connor, who?s looking for a tall power bottom. He ends up picking up a fairly attractive guy in a tank, sporting a goatee. It doesn?t take long before they?re offering him some cash of course to fuck around. The two end up in an alley behind a dumpster and you can see people pass by on the street in the background. Connor?s got a great cock that gets serviced by his new fuck buddy. Actually it was really turning me on watching that big, veiny cock get devoured! I could have done without the banter but it was a pretty awesome blowjob if you ask me! Eventually Connor lies on the ground as his fuck buddy rides his cock all over the place. It ends with the two jacking off and both shoot some great loads that leave Connor drenched in jizz!

Gino and crew seem to be in the middle of nowhere when they spot a real cute guy sitting alone on a bench. Gino heads down to try and pick him up as cars fly by the highway. The guy claims to be waiting for a friend and not gay but that doesn?t stop him from wanting a quick blow job. The guys pretty cute and the two head off into an alcove behind a bowling alley. Gino drops to his knees and quickly devours every inch of his partner. The dude?s pretty eager and just can?t seem to get enough of that cock! After Gino has had his fill of cock he bends over and offers up his ass to the stranger. Again, it just seems like a nice natural fuck I think and it gave me a boner at least. It?s nice to see average guys fucking for a change. Actually this one really turned me on and it was a great fuck with lots of great camera shots! The top shoots a nice load all over Gino?s nuts.

Ricky Sinz is always horny and approaches the first guy they encounter, Tucker, walking down the street. Of course he?s never been fucked, yea right, but needless to say the two wander off and he?s eager to try. The two head behind a building with all kinds of junk strewn about and eventually find a somewhat secluded spot. The stranger has a nice build and a decent cock and begins sucking Ricky. Ricky fucks his face like no tomorrow that leads up to the guy riding Ricky back to front. Not my favorite position but plenty of nice camera shots as he pushes himself up and down. He bends over doggy style as the two continue and here Ricky really puts his cock to good use! Another decent fuck that ends with Ricky pulling out and spraying all over his bottoms backside.

Really liked the scene with Gino most of all it's just nice to see some average guys for a change and there were some great camera shots and nice sucking and fucking.