Intensity 01
(21)
| | |
| --- | --- |
| | Get it with a Free Trial! |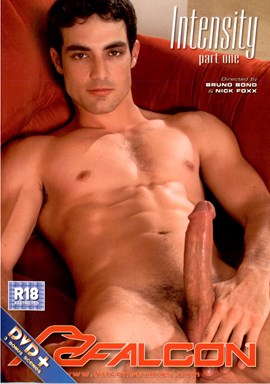 Performers
Director
Studio
Category
Duration (approximate)

Bruno Bond

Falcon

90 minutes

Date Added:
09/30/2014
Production Year:
2014
Format:
DVD
There are currently no member reviews. Be the first to review this title.
Industry Reviews (1)
Reviewed by joeblow69 01/02/02
Source: AdultDVDTalk



Director: Ray Butler

Cast: Steve Dragon, Larry Wolf, Joey Reese, Bob Lowe, Eli Horst, Gavin Press

Story: 3 barely related scenes filled with bareback sex, cum eating, and lots and lots of dildos.

Scene One
Joey Reese and Bob Lowe start things off in front of a wall covered in dildos. Both are decent enough looking, I guess, with average builds. After a little foreplay, Joey slides his condomless cock up Bob?s ass. I have to say, it sure is nice to see bare flesh rubbing up together? the view is only spoiled a bit by Joey?s flat ass. Once you get over the fact that they?re barebacking, the sex is rather mundane. Things get a little more interesting near the end when Joey stuffs both a big black dildo and his dick up Bob?s used ass, and it sure is nice to see a scene end with an internal cumshot. (I?m not sure how much I really needed to see Bob fart the cum out his ass, though). This is probably the best of the 3 scenes.

Scene Two
This scene had some serious potential, but went terribly wrong about half way though. Two big buff guys, Steve Dragon (who is a dead ringer for Titan?s Mike Roberts) and Larry Wolf (who kind of looks like an older Dean Coulter) get to know each other in a weight room. They?re soon joined by bald man Eli Horst. Eli is probably in the worst shape of the 3, but still, he?s not so bad.

Anyway, things are starting to get all hot and heavy, with Steve getting fucked by both Eli and Larry (again, bareback). Then all of a sudden, it turns into a goddamn freakshow, with Eli stuffing the biggest damn dildos up Steve?s ass. This went way past the erotic line for me, and went straight into ?what the hell?!?? territory. I kid you not, Steve takes about 2 feet of dildo up his ass! Yikes! I have to feel sorry for guys like Steve? even with half of Oklahoma up his ass, he still had problems blowing his load!

On the plus side, there is a really nice oral cumshot in this scene. Other than that, there isn?t much here that I would ever want to see again.

Scene Three
Eli?s back for scene 3, this time bottoming for Gavin Press. Unfortunately, Eli?s gut is on display a bit more in this scene. At least Gavin is in decent shape. The oral goes on for far too long, and when they finally do get to fucking, you quickly wish they would just get the damn job over with already. I have to stress this again? top men really do need to have nice butts. When they?re slammin that big ol? dick in and out of that sweet little hole, the top?s butt is something we see far to much of for it to be all flabby and wrinkly (hello Gavin!)

Audio/Visual Quality
There?s nothing to complain about here? The video is good, and the music is kept sparse so we can concentrate on all that moanin and groanin.

Extras
Hot Desert Knights sure didn?t skimp on extras. Included are a couple of photo galleries, a behind the scenes feature, and a whole mess of previews. I have to say, there?s more jackoff material in the previews than the feature film!

Final Word
Intensity is about as far from politically correct porn as you are going to get. Unfortunately all the cum eating in the world isn?t going to make a dull film great. It?s obvious by the included trailers that Hot Desert Knights makes some great porn?Intensity just isn?t one of them.

Running Time: 88 minutes

Send questions, and comments to: joeblow69@my.adultdvdtalk.com.