Out in Public 06
(4)
| | |
| --- | --- |
| | Get it with a Free Trial! |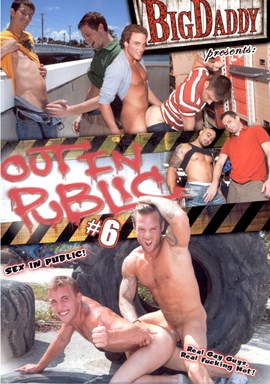 Performers
Director
Studio
Category
Duration (approximate)

Big Daddy

82 minutes

Date Added:
09/18/2014
Production Year:
2012
Format:
DVD
There are currently no member reviews. Be the first to review this title.
Industry Reviews (1)
Reviewed by Netguy 03/14/13
Source: AdultDVDTalk



Mike King and the ?camera man? pick up JT Knightly and offer him some cash if he?ll have sex in public. That?s the basic premise of this whole series and sometime it comes across pretty real, at other times really fake. In ?Out by the river? they walk the streets looking for a good place to fuck around and settle on a home construction near a body of water. Both young and cute and when Mike whips out his cock boy does that look good! J drops to his knees and begins sucking that big cock and set of balls and does his best to deep throat it. It?s a bit distracting with the camera man interjecting every so often and I didn?t think JT was that great at giving head. Nontheless these two slender boys continue off to the side of the house where JT does a much better job at riding Mike?s big cock! Doggy style ends the scene with Mike shooting an incredible load across JT?s back and ass! I actually enjoyed it better than I thought!

In ?Window Shopping? tattooed Ari Gypsy is paired up with Jason. Ari is horny as fuck of course and he?s kind of sexy in a bad boy sort of way. The two walk the street in Miami and stop in a swimsuit store whereby they head to the back and Jason gets Ari nice and hard with his mouth! In the background you can see the clerk but he?s not paying attention of course while Ari begins fucking Jason from behind. The two didn?t really thrill me much and Jason didn?t have much for an ass. It picked up some when Jason got on his back on a small bench and Ari continued a nice, slow fuck! Actually I started getting into watching him, I love to get fucked slowly and this was hot! Ari gets really hot and pulls out quick to spray a great load high over Jason head and all over him just before the clerk comes and chases them out.

Bo, a big, muscular, scruffy dude is ?Out and About? and hooks up with an adorable blond boy named Alex. I have to say the guys are pretty decent looking and for the most part in good shape! The scene continues much like the rest and the two find a spot in an abandoned construction site. Bo drops his shorts and Alex is much eager to go down on him. Bo has a bit of a hard time getting hard, not sure why Alex is adorable and sure looks like he?s doing his best! He does eventually put it deep inside Alex but even here seems to struggle a bit. Maybe it?s all that whining Alex does. These two really just didn?t have a connection to be quite honest and really just seemed to be going through the motions. Even the cum shot was a weak. Oh well.

Two guys, one looking a tad like a young Matthew McConaughey head to the mall and enter a back door then make their way to the backroom of a store in ?Fun at the Sneaker Shop?. It?s a fun premise but again ?Matthew? seems to have a bit of a struggle getting an erection. Things pick up though when he begins to fuck the bottoms mouth and he begins to suck harder and faster. He never gets fully hard though until he begins to fuck his buddy. The bottom has a great ass and gets a pretty decent pounding and seems pretty into it. The first scene was still the best though. Our top pulls out just in time to squirt out a nice load that accidently hits the bottom boy in the face! After he cums they quickly get dressed and scram when the manager catches them.

Overall this was a bit weak. The first scene I really enjoyed and the second not bad but the others just weren't up to par. A moment here or there but in general this was 50/50.