Men in Budapest
(13)
| | |
| --- | --- |
| | Get it with a Free Trial! |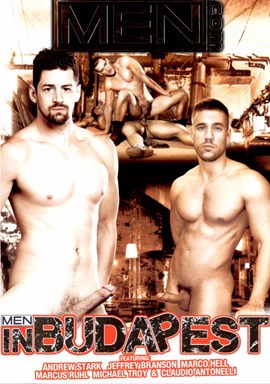 Performers
Director
Studio
Category
Duration (approximate)

Men.com

110 minutes

Date Added:
04/05/2018
Production Year:
2013
Format:
DVD
There are currently no member reviews. Be the first to review this title.
Industry Reviews (1)
Reviewed by Netguy 10/16/13
Source: AdultDVDTalk



It begins with Andrew Stark and Marcus Ruhl out for a bite to eat and after a brief argument about whether the waiter, Jeffrey Branson, is straight or not Marcus heads back to his their hotel room. Well, when the cat?s away?Andrew tries to hit on Jeffrey who in turn tells him he?s straight but offers to be their tour guide where he?ll show them the sites as well as the hot men in the foreign city.

Well it doesn?t take much arm twisting and the two are in the back room with Andrew on his knees devouring Jeffrey in ?Hooking the Tour Guide?. Jeffrey?s got a nice veiny uncut cock and Andrew has no problem taking every inch down his throat! I love to suck cock and it appears Andrew does too and does a fine job! Andrew has an equally impressive cock that stands straight up and is just waiting for Jeffrey. They both deliver some great head that?s for sure! Eventually Jeffrey?s cock makes it way up Andrew?s ass as he straddles the dishwashing station and gets a deep, hard pounding that leaves him covered in jizz!

The next day their tour guide introduces them to his friend a female dominatrix, Domina, and the four go out to lunch. Marcus gets a phone call and heads off. Well the mistress has a hot friend, Marco Hell who just happens to stop by and it catches the attention of Andrew. The two concoct a plan with Marco thinking he?s going to hook up with Domina but in fact it will be Andrew who gets a taste of the big, tattooed stud. Andrew wastes no time and strips of his clothes and gets into a big red bathtub and invites Marco in to join him. Again it?s a nice blowjob on Andrews part but Marco is a bit lifeless, that is until he begins fucking Andrew from behind. But the best is with Andrew on his back/shoulders with his ass in the air and Marco driving his cock straight down and deep! Andrew delivers a nice load as Marco continues his ass ramming then pulls out just in time to drop his own load!

Flashback to lunch time and it turns out Marcus has met someone online and makes plans to hook up in, ?Run Down Rendezvous?. Marcus heads to the address that leads him to a dark underground lair and is a bit scared but eventually meets up with Michael Troy who?s working down in the boiler room. Michael?s a real cutie with a trim muscular build, while Marcus is nice and beefy. God he?s hot! Marcus makes Michael choke on his cock and instructs him on what to do. The two take turns sucking on each other?s rock hard cocks as they moan and groan with delight. Marcus?s ass gets a good tongue lashing next along with his low hanging balls and Michael just cant seem to get enough! A nice flip-flop fuck ensues with each of them delivering an intense, hard fuck! Marcus lets his jizz fly over while Michael drops quite a load to his chest and neck! Pretty hot!

Finally on a rainy day Andrew wanders off on his own and is followed by Claudio Antonelli who he mistakes for a mugger. Well seems ol? Claudio just wanted some man meat in his mouth and Andrew offers it up to him! Claudio didn?t really do much for me in the looks department but he seemed to have fun sucking dick and teasing it with his tongue! Andrew bends over and Claudio bounces back and forth from cock to ass with his tongue and mouth getting Andrew all hot and bothered! Claudio slips a condom on Andrew then bends over so Andrew can show him how Americans like to screw. It ends with Claudio being used as a cum rage as Andrew sprays all over him just before Andrew?s boyfriend Marcus call and he heads off to meet him.

Overall not bad and like that it had somewhat of a story rather then just random scenes. Not all the Euro guys performed quite as well as the American counterparts and would have liked to see Marcus in one more scene but I digress. Some nice looking men, hot cocks, and asses just begging to be fucked! Here's to more adventures overseas! Oh it's a good price too!